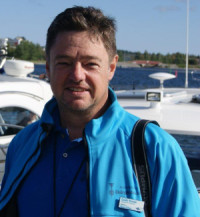 Established 2000 by Hansi Gelter, CEO, Nature Guide, PhD. in Biology, & Prof. in Experienc Production
Our philosophy: Highest responsibility four our guests and the environment
Our motto is "transforming nature to experiences" by co-created and enriched experiences based on the chararacter our our seven seasons.
Our goal is to share the happiness of being in nature and the excitement to discover the mysteries of nature.
We also want to share the calmness and well-being effect of our subarctic nature.
We promote learning and experiences about nature, in nature, trough nature and for nature.
Our philosophy is to maximize the nature experience and minimize the environmental impact.
We are engaged locally and globally for the environment and Corporate Social Responsibility for a better world.
We work hard on improving our busness quality and are Tour Quality Certified.
History of our loggo >>
We strive to actively improv our environmental work and environmental engagement.
We are member of the Swedish Ecotourism Association >> and certified as Nature´s Best>> ecotourism company.
We participate in local and global environmental protection.
All our transports are CO2-neutral by CO2-offset.
We only use eco-friendy certfied products.
We use eco-friendly transportations and vehicles.
We leave no tracks in nature - except our fotprints and memorable experiences.
We aim to inspire environmental counsiousness and responsinility.
We regularly test our environmental inpact and ecological fotprint.
Our co-workers shall be aware of our environmerntal policy and environmental values and activily contribute to sustainability.
We follow the guidelines of the International Ecotourism Society - Codes of Conduct >>
Guide Natura CO2-offset all transourtations made by the company, both with guests on boat, snowmobile or car/bus, as well as all backstage transportations.

We offset by plant plantations trough the Swedish Nature Conservation Association>> (SNF) or other organisations.

We try travel environmentally friendly by train or buss, and offset our longer traveling by SAS CO2-offset>> or Climate Care>>
We regularly perform Carbon Footprinting>> and encourage our guests and suppliers to do the same.

Flying to remote destinations such as Arctic Europe and Swedish Lapland consumes a lot of CO2, and we hope that our guests are environmental concern and CO2 offset their traveling through Carbon Footprinting>> , SAS CO2-offset>>, Climate Care>> or other companies.
We use environmently friendly products
We use cothings, tenths and equipment primarly from Fjällräven>>, a company with high quality and environmental friendly products,
that also is engaged in sustainability work.
Our Corporate Social Responsibility work
We are also socially engaged for a better world:
We have Travel Guarantee>> from the Swedish The Legal, Financial and Administrative Services Agency (Handelskammaren).
We have Company Insurance (Resposibility, facilities, guest accidents) from Trygg-Hansa>>
We have VAT/Tax-certification (F-skattesedel)
We have been in business since 2000
We have apropiate transport certifications (taxi-boat)
We follow Swedish Law and regulations and obey the rules of "Public Access to nature" Allemansrätten

OUR LOCATION: Renöhamn, Piteå, Swedish Lapland