Our tours and activities are based on the concept of "Safari" - "wilderness expeditions" into the nature of the north. Instead of the traditional big game hunting safaris of Africa - we hunt the nature experience with our senses and with our cameras. "Safari" meaning "journy" - Guide Natura will take you on a nature yourny where the experience of the northern nature is in focus. We are specialised in experiences at the Coast of Swedish Lapland - the northernmost archipelago of Bothia Bay, just south of the polar circle. Here the changing light of the north creats Seven seasons >> giving fantastic contrasts during the year.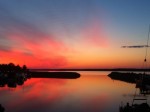 Bright night boat safari
Hunt for the magic northern night experience
in Piteå archipelago.

Information & BOOKING >>
Seal safari to the singing seals
Safari to the howling and singing seals of the Bothnia Bay

Information & BOOKING >>
Seal safari - Swim with wild seals
Experience wild seals in their own natural element

Information & BOOKING >>
For more information, please, contact us.

OUR LOCATION: Renöhamn, Piteå, Swedish Lapland
Visiting address:
Renöhamn, Renön, Piteå
Postal Address:
Lövgrundsvägen 93,
94141 Piteå, Sweden

Contact:
Tel. (+46) 070- 6722109
contact (at) guide-natura.com
Bankgiro: 774-5060

We have Tax-certificate
We have travelers guaranty

Follow us on Facebook