Island cottage Vargön 1, Koskäret, Wolf Island (Vargön)
Open time: The cottage can be booked from 1st February to 31st october.

Prices:
Per night 650 SEK (check-in at 13.00, check-out at 12.00.
Per week 4550 SEK (Friday 12.00 to Friday 13.00)
Prices are per cottage, for up ti 6 persons.

Booking with free cancellation untill 3 days before arrival.

Price do not include beeding sheets and pillow cases (or sleeping bags in winter time), these can be rented for 300 SEK per person.
The cottages have no water, you have to bring your own water or book water from us, clear spring water from Renön for 200 SEK.
Payment:
1) Swish nr 123 173 2486
2) or Credit Cards (VISA/Mastercard) at transfer or key pick-up.
Chek-In time: 13-14 hour
Keys are delivered at transfer (if booked) or
at picked-up station at Renöhamn - Piteå Kayak Centre in a coded box. The code will be send with booking confirmation.
Check-out time: 12- 13 hour.
For more information, Please, contact us

GPS
WGS84: N 65° 17.0361', E 21° 45.01'
Decimal: 65.2839, 21.7502
This coastal cottage is located at the shore of the nature reserve Koskäret on Wolf Island (Vargön), in the archipelago of Piteå. The cottage is a perfect place for relaxation and connecting with each other, and with nature.
In summer you reach the Island by boat, 15 min from Renöhamn or 30 min from central Piteå. There are tour boats to the Island (se www.pitea.se for schedules) or you can book transfer by taxi boat from Guide Natura. In winter you reach the cottage by snowmobile or skis from the mainland (Renöhamn 7 km, Piteå 14 km) or book a snowmobile taxi from Guide Natura.

The cottage is equipped with a kitchen with gas stove and gas fridge, a wood stove, and bed capacity for 5 persons with the possibility of one additional person on an air mattress. Other equipment includes fishing gear, fishing boat, cocking equipment, blankets and pillows. You have to bring your own water and food, as well as bed sheets and pillow-cases or sleeping bag, or rent from Guide Natura for 300 SEK per person. A simple outhouse will be your close to nature toilet.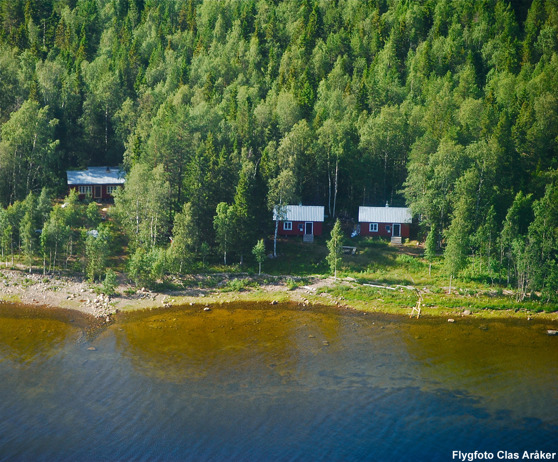 About the Area and Island
There are two identical cottages next to each other, Vargön 1 and Vargön 2, and the only neighbor is a private cottage nearby. Instead you have the subarctic nature as you neighbor with the native boreal forest where deer, moose and reindeer (winter stay area for reindeer herds) roam, and in spring and summer cranes call from the bogs and you can hear the play of black grouse. The Sea eagle is nesting in the area and in the sea you may spot the grey and harbor seal.
Our coastal Cottages are open for rental in winter time from 1st of February and as long as the ice-conditions permit transportation on the ice (please, contact us for ice-conditions). There are snowmobile trails to the islands from Svartnäsudden on the mainland in case you have your own snowmobile.
If you do not have your own transportation to the island, Guide Natura has snowmonile transfer for upp to 6 persons to the cottages.
The cottages have only a wooden stove as heating, there is wood for the stove at the carbine, but you need sleeping gear (sleeping bags etc.) and proper clothings for winter conditions.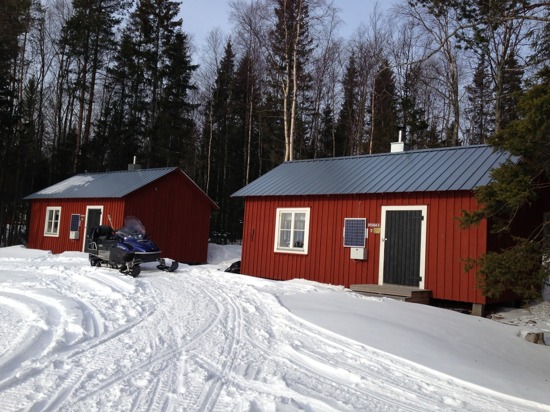 The cottage is on an island that can be reached by boat 15-20 minutes transfer from Renöhamn (30 minutes from Central Piteå).
Transfer must be booked separately (not included in rental price).

Transfer Summertime:
By taxiboat M/F Renön from Renöhamn, Renön, för upp to 6 persons per cottage:
Price 500 SEK for both ways per cottage (max 6 persons)
Pick-up in central Piteå will cost an additional 500 SEK both ways.
Transfer time: At 12 hour from Renöhamn, 13-14 hour from Vargön. Other transfer times with additional fees.
For more information and booking >>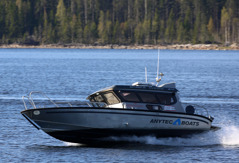 Transfer winter with snowmobile
Transfer with snowmobile and sledge
From Renöhamn, Renön, about 35 minutes
for upp to 6 personer (1 cottage).
Price 750 SEK for both way per cottage (max 6 persons).
Pick-up at central Piteå will cost an additional
500:- for both ways.
Transfer time: At 12 hour from Renöhamn, 13-24 hour from Vargön.
Other transfer times with additional fees.
For more information and booking >>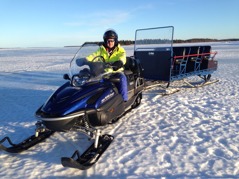 Bed sheets and pillow-cases or sleeping bags per person 300 SEK per rental (1-3 days), rental Slepingbag per week 900 SEK.

Clear spring water from the Renön well, 20-40 L, 200 SEK

Kayak Rental, per kayak and day 500 SEK, for weekend 800 SEK, for week 1600 SEK including transportation to the island.

Snow shoe rental 450 SEK per day / pair, 800 per weekend/pair, 1600 per week/pair.

Guidad tour on the island 1490 SEK per hour för upp to 6 persons (per cottage)