River Floating - the timber log way
Experience river drifting along the historic river log driving path on Piteå river
You dress up in dry suite and snorkeling gear, and immerse yourself in the slow stream of the Piteå River. By just floating on the surface you will slowly drift of with the river as a timber log from the old log driving era.

You are now in the world of the river fishers where the old pike can lure and watch you from a hide, water plants oscillate rhythmically in the river current and perches take of when youslowly come floating across their stand. Also salmon and trout thrive in the river and may be seen.

Without any effort you float with the river, passing fishes, beavers lodged in the river banks, and if you are lucky you may meet the otter living in the small creeks of the river.

The Piteå river has a long history of log driving that ended some 30 years ago. You will see remains of the log driving epoch with drowned logs, and remains of log driving constructions aloong the river banks.

After this immersion in the river world, you walk up a river bank and enjoy hot drinks and river snacks at an open fire.
Information about the experience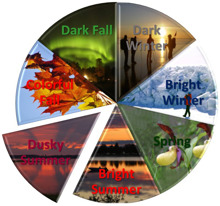 Season: July-September
Departure dates: see Booking calendar
Duration: 3 hours
Departure time: 8 am
Return: about 11 am
Departure place: Tourist Center, Piteå
Visiting Place: Piteå River, Piteå
Number of guests: min. 2, max. 6 persons
Conditions: You must be able to swim 200 meters
Included:
- Dry suite
- Snorkeling gear
- Snorkeling guide – biologist
- Warm drink and River Snacks

There are seveleral hotells, Bed & Breakfast, Camp sites, Guest Houses and Cabins for great accomondation in Piteå, for more information see here >>, or you you can stay in our coastal cottages >>.
Destination Piteå has many activities to offer winter and summer, such as hiking on the Solander trail, boat tours to the archipelago, or chopping downtown. For more information see here >>
We are eco-tourism certified as "Natures-Best" and follow the path of ecological, social and economical sustainability.