Walking and paddling the log driving path of the Solander trail

After a short transfer from Piteå center, you meet your guide at Böle Garveri, next to Piteå River. From here, your "waddling" (walk & paddling) experience starts with a 7 km easy guided hike through the boreal taiga forest on a historical log driving path along the Piteå River.

Aling the path previously logging workers have transported driving gear, and you will find both on land and in the river, remains from the log driving era while your guide interpretate the historical logging and log driving on the river.

You will pass different forest types of the northern boreal forest, and learn how forestry and logging has formed the landscape. In these forests moose and brown bear roam, and stray reindeer may be seen. You walk through beaver land where you find their active timber cutting, and you even might spot a beaver on land or in the river. You also pass the modern agricultural landscape before returning to the river banks and the canoe loading station. Here, before you enter your kayak or canoe, you will get refreshing hot drinks and River snacks while absorbing the rhythm of the passing river.

You soon get carried away by the river slowly floating water. Immersed in the river landscape, you slowly drift with the current of the river, feeling the power of the water that emerges from mountain glacier at the Norwegian border.

You hardly need to paddle, as you pass high river banks where bank-swallows and the great eagle owl nest, and deep creek canyons where the otter live. You pass beaver canals and beaver lodges, and float over shallow river banks where logs from both beavers and foresters are sunk. You pass pure wilderness area intersected with more cultural areas with small red fishing cottages and at the end modern living homes by the river bank, before approach your starting point.
Information about the experience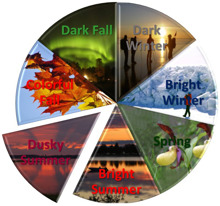 Season: July - September
Departure Dates: see Booking callendar
Duration: 5 hours,
Distances: 7 km hiking, 6 km paddling
Departure time: 1 pm
Return: about 6 pm
Departure place: Tourist Centra, Piteå
Visiting Place: Piteå River, Solander trail
Number of guests: min. 2, max. 16 persons
Included:
- Guided walking & paddling tour
- Nature guide - biologist
- Kayaks/Canoes and all paddling gear
- Weather protective clothing (rain caps) if necessary
- Warm drinks with River snacks
There are seveleral hotells, Bed & Breakfast, Camp sites, Guest Houses and Cabins for great accomondation in Piteå, for more information see here >>, or you you can stay in our coastal cottages >>.
Destination Piteå has many activities to offer winter and summer, such as hiking on the Solander trail, boat tours to the archipelago, or chopping downtown. For more information see here >>
We are eco-tourism certified as "Natures-Best" and follow the path of ecological, social and economical sustainability.