Coastal Swedish Lapland island experience
Experience labyrinths and fisherman´s villages
Your coastal experience starts from Renöhamn wharf 7 km outside the town of Piteå, were your guide welcome you and take you onboard our comfortable boat M/B RENÖN. From here we go from the inner archipelago of Piteå populated with charming summer houses and fisherman cottages to the unpopulated wilderness of the outermost islands. Here at the land of the sea eagle, you may spot moose, deer, reindeers and even perhaps the brown bear on the islands. You will land on charming fisherman villages with several hundred-year-old fisherman's huts, and remains back to the 1700th century. The islands have been an important fishing and seal hunting areas for almost thousand years, and archeological remains tell you the stories of their hard life. Here you also find mystical remains of these early hunters – the mythological labyrinths that are placed strategically in the island landscape. You walk through the moorland-like landscape of the islands, and may hear howling grey seals from a colony nearby, when you suddenly stumble over the labyrinth. You immerge in the experience of this historical landscape, in your mind visualizing the two kilometers of ice above your head some ten thousand years ago, and later how the island over thousands of years' rise from the sea like a titan of rock rising from the water. You try to visualize how the seals used to roast on the first rocks emerging from the sea, and the first hunters arriving to find a living from the area. After the island tour an outdoor coastal lunch awaits you by an open fire place.
Information about the experience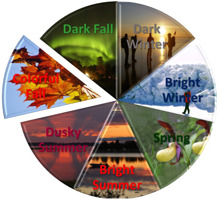 Season: September
Departure date: see Booking calendar
Duration: 5 hours
Departure time: 8 am
Return: about 1 pm
Departure place: Renöhamn, Piteå
Visiting Place: Coast of Swedish Lapland, Piteå
Number of guests: min. 2, max. 12 persons
Conditions: Reservation for cannelation at bad weather
Included:
- Guided Boat
- Guided island tours
- Coffee/tea with island snacks
- Outdoor lunch

There are seveleral hotells, Bed & Breakfast, Camp sites, Guest Houses and Cabins for great accomondation in Piteå, for more information see here >>, or you you can stay in our coastal cottages >>.
Destination Piteå has many activities to offer winter and summer, such as hiking on the Solander trail, boat tours to the archipelago, or chopping downtown. For more information see here >>
We are eco-tourism certified as "Natures-Best" and follow the path of ecological, social and economical sustainability.