Tree Camping Expedition on the Solander Trail
Nature experience the "Friluftsliv" (free-air-living) way
On this guided wilderness hike on the Solander trail, you will learn basic Friluftsliv and Nordic forest survival skills, such as making fire, outdoor cooking the Swedish lifestyle way, edible wild plants and berries, nature interpretation and wildlife tracking, sleeping in nature in Tree Tents and more. The Nordic Forest Lifestyle of Friluftsliv is introduced by a biologist, Friluftsliv expert and professor in experience production, Dr. Hansi Gelter.

You will experience the Nordic lifestyle of Friluftsliv (free-air-life) – the natural way to interconnect with the landscape and nature. You will in your own pace hike along the Solander trail through the boreal taiga forest where moose, deer, stray reindeers, brown bears, lynx and occasional wolfs live. Birds we may encounter are golden eagles, eagle-owl, capercaillie, black grouse, hazel grouse cranes, Siberian jay and many other. We hike through the landscape formed by the last ice age with small forest lakes and bogs, cliffs and hills, sandy pine forests and old spruce forests. We prepare our meals over open fire and learn to prepare and eat wild berries, plants and mushrooms we find on our way. Other Friluftsliv skills are to slow down and relax, and "just be there" in nature – an overwhelming experience. By night we sleep in the trees in a TreeTent camp – elevated from the ground in comfortable Tensile Tree Tenths and sleeping bags. Your nature interpretator and guide will introduce you to this forest world, from mycology to mythology, covering ethnobiology - how nature has been used for survival to the tales and myths about the forest creatures in folklore.
Information about the experience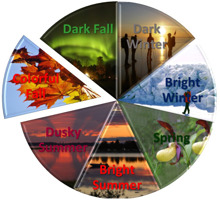 Season: August, September
Departure date: see Booking calendar
Duration: 2 days, 1 night
Departure time: 9 am
Return: about 6 pm
Departure place: Tourist Center, Piteå
Visiting Place: Solander trail, Piteå
Number of guests: min. 2, max. 6 persons
Conditions: Reservation for cannelation at bad weather
Included:
- Tree tents
- Guided hiking
- Nature Guide – biologist
- All outdoor equipment for cooking and sleeping
-drinks, outdoor lunches and outdoor dinner

There are seveleral hotells, Bed & Breakfast, Camp sites, Guest Houses and Cabins for great accomondation in Piteå, for more information see here >>, or you you can stay in our coastal cottages >>.
Destination Piteå has many activities to offer winter and summer, such as hiking on the Solander trail, boat tours to the archipelago, or chopping downtown. For more information see here >>
We are eco-tourism certified as "Natures-Best" and follow the path of ecological, social and economical sustainability.