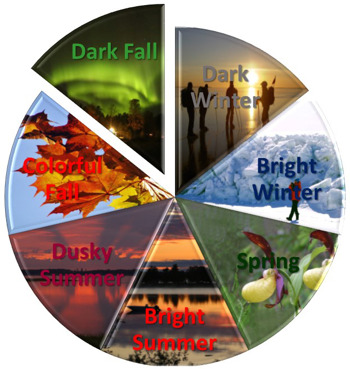 When October marks the beginning of the Dark Fall, the leaves have fallen of the trees and the days have become shorter. This time of clear days and contrasting stormy days' invite to unusual experiences until the first snow falls in late November or beginning December. Nature has become screaming silent, the visiting summer birds left for warmer areas, Insects have prepared themselves to survive the winter, and only winter-green plants remain us of the green summer. The storms of the fall have ripped of the last leaves from the trees, and the cold fresh air forecast the first snowfalls. Now is the time for forest hiking and discovering the exciting cryptogams, mosses and lichens that have been hidden by the higher plants of the summer, or frost paddling when the first rime covers the reed and water surface. In shallow bays pikes are absorbing the last sun rays and the whooper swans are gathering in big groups in the still open sea. The common merganser gathers into enormous armada´s of thousand birds fishing for the whitefish European cisco or Vendance (Coregonus albula). They compete with the last existing fishing boats, who harvest the red gold of the sea, the vendance roe, in the Swedish Bothnia Bay area a PDO certified delicacy branded as "Kalix löjrom" – a prime taste of Swedish Lapland. Dark fall is also a high season for the Northern light, that can be photographed mirroring in the calm water of the sea.
Our experiences during Dark fall:
For more information about our experiences:

There are seveleral hotells, Bed & Breakfast, Camp sites, Guest Houses and Cabins for great accomondation in Piteå, for more information see here >>, or you you can stay in our coastal cottages >>.
Destination Piteå has many activities to offer winter and summer, such as hiking on the Solander trail, boat tours to the archipelago, or chopping downtown. For more information see here >>
We are eco-tourism certified as "Natures-Best" and follow the path of ecological, social and economical sustainability.