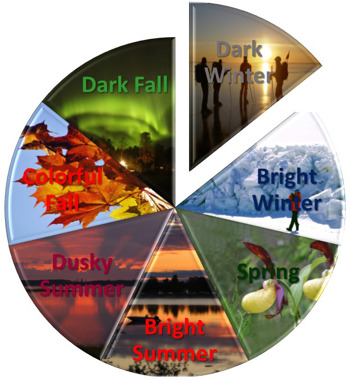 The Dark Fall is transforming into the Dark Winter as the snow starts to cover the landscape and the days become shorter, remaining us of our northern arctic latitude. From the beginning of December to the middle of February the few light hours in the middle of the day are, however, a sparkling colorful experience, with the dusky light exploding in pink, purple and red. When the sun after a short visit disappears below the horizon, other lightning takes over. Sparkling starlight free from urban light pollution, midday moonlight and the greenish light of the northern light – Aurora borealis – lighting up the snow-covered landscape and frozen sea. On Nordic cross-country skates, we explore the frozen sea in the dusky daylight and evening moonlight. At the afternoon dark night light, we take skis or snowshoes on a tour with headlamps through the winter forest. To sit around an open fire during a cold winter night, drinking coffee from the open fire and listening to the silent sounds of the artic night is an experience few people granted.
Our experiences during Dark winter
For more information about our experiences:

There are seveleral hotells, Bed & Breakfast, Camp sites, Guest Houses and Cabins for great accomondation in Piteå, for more information see here >>, or you you can stay in our coastal cottages >>.
Destination Piteå has many activities to offer winter and summer, such as hiking on the Solander trail, boat tours to the archipelago, or chopping downtown. For more information see here >>
We are eco-tourism certified as "Natures-Best" and follow the path of ecological, social and economical sustainability.