Opening period: 1st June - 1st October
For other dates, please, contact us.
Phone hours: 10 am - 4 pm week days.
Opening hours: Kaysak center at Renöhamn open after agreement.
For shorter tours in easier sea conditions, we have 8 st Rainbow Oasis Expedition kayaks, 4 ar Renöhamn, and 4 at Västra Kajen.
Included in rental price:
- 1 Kayak Rainbow Oasis
- 1 Paddle
- 1 Spray Skirt
- 1 PFD Marin Pool
- 1 Waterproof bag
- Maps
Day 500 SEK
Weekend 800 SEK
Week 1600 SEK
Rental Price - K1 Advanced
For longer tours and tougher sea conditions we recommend our Wilderness Systems Tempest 170 kayaks at Renöhamn.
Included in rental:
- 1 Kayak Tempest 170
- 1 Paddle
- 1 Spary Skirt
- 1 PFD Artistic Guide pro
- Waterproof bags
- Maps, compass
- Paddle float
- Water Pump
Day 700 SEK
Weekend 900 SEK
Week 1900 SEK
We have t Renöhamn one K2 double kayak Rainbow Atlantis, for shorter weekend tours.
Included in price:
-1 Rainbow Atlantis K2
- 2 PFDs Artistic Guide Pro
- 2 Spray Skirt
- 2 paddles
- Waterproof bags
- Maps, compass
- Paddle float
- Water Pump
Day 800 SEK
Weekend 1000 SEK
Week 2000 SEK
At Västra Kajen, Piteå we have one canoe Mad River Explorer 16'. It is not allowed to use it in whire water and rapids.
Included in price:
- 1 canoe Mad River Explorer
- 2 PFDs Marin Pool
- 2 paddles
- waterproff bags
- maps
- information material

We are supported by EU-foundings´s.

To find Piteå Kayak Centre
Piteå Kayak Center is located at Renöhamn, 7 km east of Piteå. Here is a perfect place to start explore Piteå archipelago and the Coast of Swedish Lapland. We have open on request.
We have also kayaks for rental in central Piteå at Västra Kajen Camping och Gästhamn. This is a persfect place to explore the waters around Piteå township. Please, contact us for bookings.
We arrange indoor and outdoor kayak courses in basic paddle techniques, self- and budy rescue.
Se kayaking event June 2018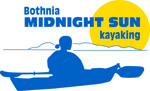 In July 2015 we startet a Midnight Sun kayaking event with a 130 km paddling from Piteå to Råneå along the Coast of Seedish Lapland. The next tour will be in june 2018.
For more information, see here >>
Kayak Fleet Event at Piteå
In association with the Coastal festival in Piteå, Guide Natura arranges a Kayaking Fleet Event, starting at Norrstand, Piteå, paddling trough Piteå Channel to Southern Habor and "Västra Kajen and the festival. Everyone with a kayak or canoe are welcome.
Like & Follow us on Facebook