With our boat M/F Renön we will take you safe and quick into our great Archipelago at the Coast of Swedish Lapland in the Balthic Sea.

We offer three boat services:
Regular Line tours at inner Piteå Archipelago from Central Piteå at Västra Kajen to Furunäset - Fingermanholmen - Pitsund - Pite Havsbad and Stenskär, on Wednesdays, Fridays and Saturdays during July and August. More information and booking here>>

Transfer to our coastal cottages in Piteå archipelago for a subsidiced price in connection to renting the cottages. More information and booking here >>

Traditional Seataxi and charter for groups up to 12 persons, se this page.
If you want to go to a archipelago island with an wharf, the price per tour (upp to 12 persons) from Renöhamn one way will be to:
Baggen 1350 SEK
Koskäret, Vargön 1750 SEK
Stenbergsviken, Mellerstön 2750 SEK
Pite Kluntarna 2900 SEK
Stor-Räbben 4250 SEK
Stenskär, norra leden 4450 SEK
Stenskär via Piteå 3550 SEK
Piteå Rönnskär 5700 SEK
Prices includes VAT (6%).
If you want us to wait for you at the destination, the cost is 550 SEK per hour, or the same prices abow for picup and renturn transfer.
Payment: Swish 123 173 2486, bg 774-5060 or card (VISA/Mastercard) at trasfer. No cash!
Weekend addition (saturday & Sunday) +30%
Evening addition 6-8 pm +40%
Night addition 8pm - 8 am +65%
Midsummer addition +75%
Other picup places:
Norra hamn, Piteå: 950 SEK
Södra hamn, Piteå : 2100 SEK
Jävre hamn: 2300 SEK
The seataxi season starts normally last week in May (week 22) or first week in June, depending on ice conditions.
We close the season first week in October (week 40).
For exact date, see our Facebookpage>>
General about our prices
Price is per tour independent of number of persons, but maximum 12 persons.
Prices include 6% tax.
Payment in advance to
bg 774-5060 or Swish 123 173 2486 by or on departure day by card (VISA or MasterCard). No cash.
Payment:
Full payment at Booking. No reservations without booking and payment.
For booking the same day on departure, payment by Visa/MasterCard or Swich no123 173 2486 . No cash at departure.
Cancellations
You may cancel your booking with 100% refund within 5 days before departure.
If you cancel 5 days or later before departure, we charge you 50% of the amount.
You can cancel at departure day with refund only for medical reasons, otherwise cancelation at departure day will be charged the whole amount.
Cancelation only valid by mail or SMS.

Our seataxi boat M/F Renön
Out boat is an Anytech 840 FB with 310 hp engine that brings you safe to your destination. The boat is registred for 12 passangers.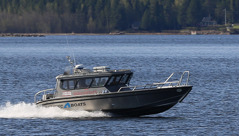 We do not cancel our tours at bad weather, only at strong winds and high waves. Cancelations can be made by short notice, and we inform our guests and we also make announcements on our Facebook page.

M/B RENÖN follow the regulation of the Swedish Transportation Authority for commercial sea traffic and their regulation of safety equipment on board. We have life jackets for everybody on board, including children and babies.
Our skipper Hansi Gelter has his skipper certification since 2006 is also a skipper at the Swedish Sea Rescue SSRS Piteå.
We carbon-dioxide compensate all our transportations and take the highest consideration and respect to wildlife, plants and other coastal visitors.
These tours contribute to the environmental protection of the Batic sea trough
The Swedish Society for Nature Conservation