Regular Boat tours in Piteå Archipelago
Time table for Regular Boat Service
BOOKING of boat tour service>>
BOOK Mondays: Södra hamn - Pite Havsbad - Stenskär
Departure Mondays: 3/7, 10/7, 17/7, 24/7 och 31/7
Departure place 1: Västra Kajen/Södra hamn, outermost jetty
Departure place 2: Pite Havsbad Marina
Time Table:
Morning tour goin out: Departure Södra hamn at 09.00 am, departure Pite Havsbad at 10.00 am, arrival Stenskär at 10.30 am
Afternoon tour going in: Departure Stenskär at 4.00 pm, departure Pite Havsbad at 4.30 pm. arrival Södra Hamn at 5.50 pm
BOOK Tuesdays: Pite Havsbad - Stenskär
Departure Tuesdays: 4/7, 11/7, 18/7, 25/7, 1/8
Departure Place: Pite Havsbad Marina
Time Table:
Morning tour going out: Departure Pite Havsbad at 10.00 am, arrival Stenskär at 10.30 am
Afternoon tour going in: Departure Stenskär at 4.00 pm, arrival Pite Havsbad at 4.30 pm
If this tour is fully booked, and you are more then 5 persons, we can make an extra tour, book then by a messge below
BOOK Thursdays: Norra Hamn - Stor-Räbben
Departure Thursdays: 6/7, 13/7, 20/7, 27/7, 3/8
Departure place: Norra Hamn Marina, Jetty at Minicipality Building
Time Table
Morning tour going out: Departure Norra hamn at 09.00 am, arrival Stor‐Räbben at 10.30 am
Afternoon tour going in: Departure Stor‐Räbben at 3.00 pm, arrival Norra Hamn at 4.30 pm
BOOK Fridays: Norra Hamn - Baggen - Vargön
Departure Fridays: 7/7, 14/7, 21/7, 28/7, 4/8
Departure place: Norra Hamn Marina, Jetty at Municipality building
Destination: Koskäret, Vargön
Time Table
Morning tour going out: Departure Norra hamn at 10.00 am, departure Baggen at 11 am, arrival Koskäret at 11.30am
Afternoon tour going in: Departure Koskäret at 3.00 pm, departure Baggen at 3.30 pm, arrival Norra Hamn at 4.30 pm
BOOK Saturdays: Norra hamn - Stor-Räbben
Departure Saturdays: 8/7, 15/7, 22/7, 27/7, 5/8
Daparture place: Norra Hamn Marina, Jetty at Piteå Minicipality Building
Time Table
Morning tour going out: Departure Norra hamn at 9.00 am, arrival Stor‐Räbben at 10.30 am
Afternoon tour going in: Departure Stor‐Räbben at 3.00 pm, arrival Norra Hamn at 4.30 pm
BOOK Sundays: Pite Havsbad - Stenskär
Departure Sundays: 9/7, 16/7, 23/7, 30/7, 6/8
Departure place: Pite Havsbad Marina
Time Table
Morning tour going out: Departure Pite Havsbad at 10.00 am, arrival Stenskär at 10.30 am
Afternoon tour going in: Departure Stenskär at 4.00 pm, arrival Pite Havsbad at 4.30 pm
If this tour is fully booked, and you are more then 5 persons, we can make an extra tour, book then by a messge below
Payment:
Full payment at Booking. No reservations without booking and payment.
For booking the same day on departure, payment by Visa/MasterCard or Swich no123 173 2486 . No cash at departure.
Cancellations:
You may cancel your booking with 90% refund within 5 days before departure.
If you cancel 5 days or later before departure, we charge you 50% of the amount.
You can cancel at departure day with refund only for medical reasons, otherwise cancelation at departure day will be charged the whole amount.
Cancelation only valid by mail or SMS.
Cancellation by us:
At inproper weather we may cancel depatures, and we provide full return payment.

Our seataxi boat M/F Renön
Out boat is an Anytech 840 FB with 310 hp engine that brings you safe to your destination. The bat is registred for 12 passangers.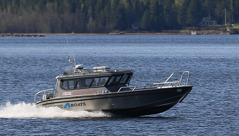 We do not cancel our tours at bad weather, only at strong winds and high waves. Cancelations can be made by short notice, and we inform our guests and we also make announcements on our Facebook page.

M/B RENÖN follow the regulation of the Swedish Transportation Authority for commercial sea traffic and their regulation of safety equipment on board. We have life jackets for everybody on board, including children and babies.
We carbon-dioxide compensate all our transportations and take the highest consideration and respect to wildlife, plants and other coastal visitors.