Snowmobile Transfer to rental Coastal cottages
Snowmobile transfer to rental coastal island Cottages in Piteå archipelago
If you during the winter rent a coastal cottage and lack snowmobile transportation to the cottage, we can provide snomobile transportation with a sledge for 6 persons.
Departure: from renöhamn, Piteå.
Transfer times: out 12 am
Back 1pm to 2 pm

Transfer prices:
Price valid per cottage up to six persons out and back:
Vargön cottage: 1500 SEK
Baggen: 1500 SEK
Mellerstön cottage: 1800 SEK
Stor-Räbben cottage: 2600 SEK
Option:
pick up in Piteå: 900 SEK
Other transfer times:
Daytime: 500 SEk
Evening 6-8 pm 950 SEK
Night time 8 pm - 8 am: 1500 SEK
Payment: at booking (VISA/Mastercard) or Swich 123 173 2486, bg 774-5060 at transfer with card (VISA/Mastercard).
No cach!
Booking fuction coming soon.
Payment:
Full payment at Booking. No reservations without booking and payment.
For booking the same day on departure, payment by Visa/MasterCard or Swich no123 173 2486 . No cash at departure.
Cancellations
You may cancel your booking with 90% refund within 5 days before departure.
If you cancel 5 days or later before departure, we charge you 50% of the amount.
You can cancel at departure day with refund only for medical reasons, otherwise cancelation at departure day will be charged the whole amount.
Cancelation only valid by mail or SMS.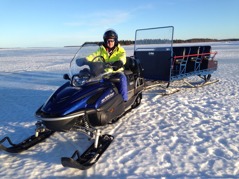 We carbon-dioxide compensate all our transportations and take the highest consideration and respect to wildlife, plants and other coastal visitors.These tours contribute to the environmental protection of the Batic sea trough
The Swedish Society for Nature Conservation