Cross Country Skate Rental
Hyr långfärdsskridskor
Rental basic package - for outdoor ice skating arenas
Hyr baspaket - för turer på säkra isbanor
If you are going to skate on Piteå Ice Arena or some other safe outdoor skating rink or arenas, our basic package is perfect for testing of cross country ice skating.
You need stable hiking-, winter- or skiing boots for best performance. They must have a hard sole and be stable over the ankle. Soft pumps will not work.
OBS! Shoes are NOT included in the rental.
The basic package include Skyllemark Birka skates and ice-prods (awls), that always should be used.
We have four pair skates for rental at Västa Kajen (see below).
Price: 175 SEK /day
Ska du åka långfärdsskridskor på plogade isbanor är vårt baspaket ett perfekt akternativ. Dessa långfärdsskridskor används i kombination med stabila vandringsskor, vinterskor eller läderpjäxor. Skorna bör ha hård sula och vara stabila över anklarna. Mjuka idrottsskor fungerar inte bra.
OBS. Skor ingår ej i hyran.
Vårt bas-paket består av Skyllemark Birka skridskor och isdubbar, som alltrid skall bäras. Vi har fyra par skridsor till uthyrning vid Västea Kajen (denan) och ytterligare 6 par vid Renöhamn.
Pris: 175 kr/dag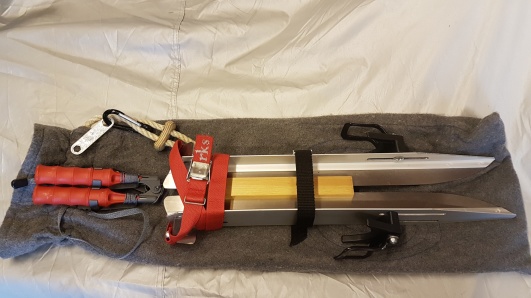 Rental skate pickup at Västa Kajen
Upphämtning av hyrskridskor vid Västra Kajen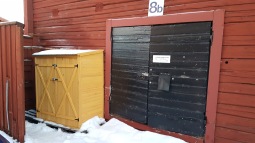 After booking and payment (below) you pick up your rental skates at Västra Kajen; Central Piteå. Confirmation of your rental gives you the combination number to the combination lock nr 2 in the yellow storage, at storage house no 8b. Here you fill a rental contract with instructions.
Google Maps location >>

Efter att du har bokat och betalt (nedan) kan du hämta upp skridskorna vid Västra Kajen, Centrala Piteå. Du får en bekräftelse med kod till kodlås nr 2 oi gula förådet, vid hamnmagasin 8b. Här fyller du i ett uthyrningskontrakt med instruktioner.
Google Maps location >>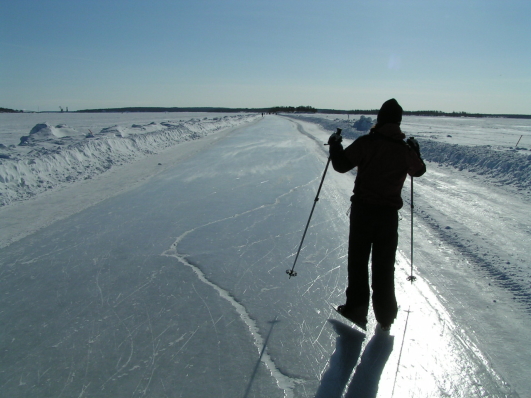 Rental Safety package - for cross country skating on sea ice
Hyr säkerhetspaket för åkning på havsis
If you are going to scate on lake or sea ice, you need full safety equipment, and knowledge how to use it. Never go on the sea ice by yourselves or with inferiors equipment or knowledge.
The Safety package includes:
- 1 pair Nordic cross country scates
- 1 pair of ice prods (awls)
- 1 Safety boyancy backpack
- 1 pair of ice-pounch poles
- 1 trow-line
- maps & compass
Price: 550 SEK/day
Equipment must be picket up at Renöhamn, Piteå, Google Maps >>
Om du ska åka på naturis på sjö eller hav, behöver du förutom långfärdsskridskor, även säkerhetsutrustning, och kunskap om hur man använder den. Åk aldrig ensam på havet eller utan säkerhetsutrustning eller iskunskap.
Säkerhetspaketet innehåller:
- 1 par långfärdsskridskor
- 1 par isdubbar
- 1 långfärdsskridsko skäkerhetssyggsäck
- 1 par ispikar
- 1 kastlina
- karta och kompass
Pris: 550 Kr/dag
Utrustningen hämtas vid Renöhamn, Piteå, Google Maps >>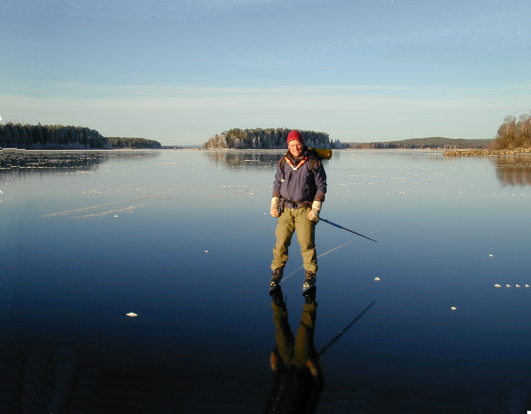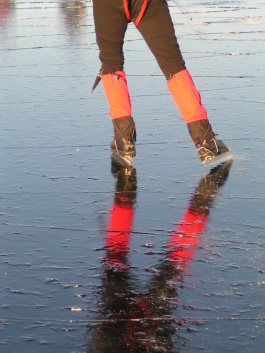 For more information, please, contact us.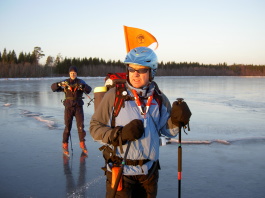 On natural ice, you need full safety equipment.
Cross Country skating Safty
When skating on natural sea and lake ices you must consider KEC - Knowledge, Equipment and Company.
KNOWLEDGE: If you are going to skate on natural sea and lake ices you must have respect, knowledge and experiences. Otherwise you should skate with experienced company.
EQUIPMENT: You must always have security equipment on natural sea and lake ices: Awls, ice punch-pole, throw-line and buoyancy-backpack with change of clothes stuffed in a dry bag.
COMPANY: Take always two buddies equipped with complete safety equipment so they can assist you at an accident.

Always have new cut and good skates with bindings that fit and adjusted to your boots.
Wear awls with a whistle round your neck
You should have an ice punch-pole (or ski poles) to assess the thickness of the ice. Ski poles or a double punch-pole give you additional power against the wind. The ice punch-pole must be able to penetrate 5 cm thick ice to indicate weaker ice. Avoid week ice of 2-3 cm or less.

Never skate alone on natural sea or lake ices; you should be at least three persons skating together.

You should always wear a backpack as it will function as a personal floating device if you get into the water. The backpack must be equipped with securer looped strap round your waist to function as a PFD. In the backpack you keep a dry bag stuffed with a set of change of clothes in case you fall into water and get wet.

You must carry a throw rope easily accessible to be able to quickly rescue your buddy that has broken though the ice. Practice throwing the rope before going skating.

Always bring your map and compass and if possible, a GPS, as the weather can change very quickly to dense fog. Orientation among the island in the archipelago can be difficult without map and compass so you must know how to use them.

We also recommend knee-protection to prevent knee injuries from a fall on the ice, and a helmet for head protection.
Additional safety equipment:
- Mobile phone in waterproof pocket to alarm an accident or to calm relatives when delayed.
- Flashlamp/headlamp if you get delayed an it gets dark.
- Thermos with warm drink and food.
- Water or other drink to prevent dehydrogenization.
- Sunglasses that protect against cold winds and with polarized glasses that facilitate assessing the ice quality.
- Gloves that protect during a fall on the ice
- Helmet (especially for kids) if you hit the ice.
- Extra pair of skates if you are going for a longer skating tour or with a larger group.
- Properly dressed for protection against wind, coldness and wetness.
- Warm break-clothing such as down jacket or fleece jacket.
- First Aid kit (band aid, etc.).
- Repair tools kit if bindings break.
- Wind bag (when you have to change for dry clothes).
- Matches to make a warming fire.
- Toilet paper (Be ware of where you do your needs - always burn your used toilet paper).
Always respect the Swedish Allemansrätten - Right of public access, and its restrictions.
Skridskosäkerhet på naturis
När du åker skridskor på naturlig havs eller sjöis, måste du tänka på KUS - Kunskap, Utrustning och Sällskap.
KUNSKAP: När du åker på naturliga isar måste du ha respekt, kunskap och erfarenhet. Annars bör då åka med mer erfaret sällskap.
UTRUSTNING: Du måste alltid ha säkerhetsutrustning på naturisar. Isdubbar, is-pik, kastlina, och ryysäck som flythjälp med ombyteskläder i en vatentät påse.
SÄLLSKAP: Ha alltid med minst två kamrater utrustade med full säkerhetsutrustning.

Ha alltid nyslipad, och till skorna väl anpassade skridskor. Bär alltid isdubb med visselpipa runt halsen. Du bör has ispik (eller skidstavar) för att testa istjockleken. Skidstavar eller en dubbel-pik ger dig extra kraft mot hård vind. Ispiken måste kunna penetrera 5 cm is för att indikera osäker is. Undvik tunn is på 2-3 cm eller mindre.

Du bör alltid ha ryggsäck med höftbälte och grenrem som ett flythjälp om du hamnar i vattnet. Ha gärna testat flytförmågan av full ryggsäck (t ex i innomhuspool), och hur du flyter med den. I ryggsäcken förvarar du ett helt ombytekläder i vattentät påse ifall du faller igenom och blir blöt.

Du bör ha med dig en kastlina som är lätt åtkomlig för att snabbt kunna rädda en kamrat som gått igenom isen. Öva att kasta linan innan du ger dig ut.

Ha alltid med dig karta och kompass, och om möjligt, en GPS. Vädret kan snabbt förändrats och över havet bildas lätt täta dimbankar. Orientering i skärgården kan dessutom vara svår utan karta och kompass, så lär dig använda dessa, t ex att kunna pejla position.

Vi rekommenderar knäskydd för att förhindra knäskador vid fall på isen, och hjälm för skydd av huvudet.

Ytterligare utrustning:
- Mobiltelefon i vattentätt fodral för att larma eller lugna anhöriga om du blir sen.
- Ficklampa/pannlampa om du blir försenad och det blir mörkt.
- Termos med varm dryck och mat.
- Vatten för att motverka vätskebrist.
- Solglassögon (eller skidglasögon) med polariserat glas som skydd mot vinddrag och för att avgöra iskvalitet.
- Handskar som skyddar vid fall på is.
- Hjälm, (speciellt för barn) för att mindra skallskada vid fall.
- Extra par skridskor vid längre turer eller större grupper.
- Lämplig klädsel som skyddar mot vind, kyla och väta.
- Varm rastplagg i form av dun- eller fleecejacka.
- Första förbandset.
- Reparationsset om bindningen går sönder.
- Vindsäck - som du kan byta om till torra kläder i om du blir blöt.
- Tändstickor/tändare att göra värmande brasa.
- Toalettpapper - (tänk på att bränna använt toapapper för att inte skräpa ner).
Visa alltid hänsyn enligt allemansrätten.

OUR LOCATION: Renöhamn, Piteå, Swedish Lapland
Visiting address:
Renöhamn, Renön, Piteå
Postal Address:
Lövgrundsvägen 93,
94141 Piteå, Sweden

Contact:
Tel. (+46) 070- 6722109
contact (at) guide-natura.com
Bankgiro: 774-5060

We have Tax-certificate
We have travelers guaranty

Follow us on Facebook