Safe paddling
- Make sure you paddle safe at your skill level
- Follow safe routs, use our kayak routs >
- Do not paddle alone, unless you are a very experienced paddler
- Avoid crossing big waters, flollow the shore line
- Make sure you have checked weather conditions
- Wear proper clothing for the activity and season
- Be aware of the very cold waters during early (April-June) and late (September-November) seasons - wear dry suite in cold waters (rental by us).
Read more safety tips by the Swedish Canoe Association>, or download the brochure (press the picture):
Paddling med kasnot eller kajak öppnar upp för fantastiska naturupplevelser. Med god kunskap om paddling blir upplevelserna både rikare och roligare. Här är några råd från paddelförbundet:

HÄNSYNSFULL PADDLING:
Tillsammans har vi ett ansvar när vi vistas i naturen, vi ser till att vårt friluftsliv sker på ett ansvarsfullt sätt. Låt de spå du lämnar endast vara vågorna efter kanoten i vattnet och dina fotatryck på stranden.

Håll avsånd till djurlivet:
Undvik att paddla nära fågelmammor och deras ungar.
Paddla om du märker att gåglar uppträder nervöst

Skyddade områdem
Ta reda på vad som gäller för Naturskyddsområden där du ska paddla.
Respektera landningsförbud och skyddssoner kring fågelskyddsområden.

Lämna lägerplatsen utan spår
Ta med ALLT skräp hem
Använd toaletter när det finns.
Annars gräv en grop med spade,
Lämna inget toalettpapper.
Ta med eller gräv ned matrester.
Diska 50 meter upp på land - inget diskmedel eller matrester i vattnet.

Elda säkert:
Ta reda på om det råder eldningsförbud.
Elda inte på klippor, de blir förstörda.
Välj iordningställda eldstäder eller en bädd av sand och sten.
Använd bara torra kvistar från marken.
Släck elden ordentligt och dränk marken runtomkring för att undvika markbrand.
Lämna inga rester från eldningen.

Respektera markägare
Om ni är en större grupp eller stannar mer än 24 timmar - fråga markägaren om lov.
Ta reda på om fiskekort krävs (ej vid havet).
Landa inte på privata bryggor som tillhör en tomt.
Gå inte över tomter eller åkrar, stäng grindart.
Respektera skyltar om förbjuden bilåkning.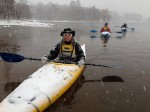 SÄKER PADDLING
Säker paddling handlar om att ha kunskaper och utrustning som motsvarar de krav som miljön ställer och att fatta kloka beslut. Färdas efter din egen förmåga. Chansa inte vad det gäller väder.

Platsen: Tänk igenom faror och risker i området.
Vid älvpaddling - ta reda på eventuella forsar och hur du undviker dem.
Undvik att korsa stora vattenytor, följ stranden.
Följ säkra ruter, nyttja gärna våra kajakleder>

Väder: Kontrollera alltid väderprognoser innan avfärd, och håll dig uppdaterad på vädersituationen, specielt på havet.

Kanoten och utrustning: Säkra kanoter som flyter även vattenfyllda. Utrustning som är anpassad till person och förhållanden. När du hyr utrustning hos Guide Natura får du säker utrustning.

Kommunikation: Vattentät mobiltelefon som fungerar och är tillgänglig när man ligger i vattnet. God och nära kommunikation inom gruppen på vattnet.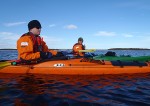 Klädsel: Klädsel som är lämpad för aktiviteten, årstiden och aktuell vattentemperatur. Var medveten om våra kalla vatten under tidig (april-juni) och sen (september-november) säsong, använd torrdräkt vid kalla vatten. Om du inte har egen torrdräkt kan du hyra av oss här >>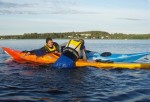 Räddning: Träna självräddning och kamraträddning i miljö liknande den som du kommer att paddla i. Lär dig via instruktör säker räddningsteknik, du kan gå kurs hos oss >>


Kan du tryggs svara på dessa frågor:
Innan turen: Vad händer om vi välter där vi tänker vara? Har vi provat i praktiken?
Under turen: Vad händer om vi välter här?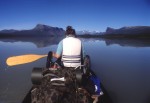 Njut av varje paddeltag
En bra paddelteknik ger skön och säker paddling
Lär dig en ergonomisk och effektiv framåtpaddling
Rätt utrustning som är riktigt inställs, Rätt sittposition
Använd bålrotation för att utnyttja kroppens stora muskler och spara energi
Sätt i paddeln långt fram nära kajaken. Avsluta paddeltaget när bladet är i höjd med höften.
Hitta en naturlig rytm och flyt i paddlingen.
Lär gärna från en utbildad instruktör - då får du mer glädje av din paddling. Gå gärna Guide Naturas säkerhetskurs >>

Läs mer säkerhetstips hos Svenska kanotförbundet>, eller ladda ned broschyren (tryck på brochyren):
For more information, please, contact us.

OUR LOCATION: Renöhamn, Piteå, Swedish Lapland
Visiting address:
Renöhamn, Renön, Piteå
Postal Address:
Lövgrundsvägen 93,
94141 Piteå, Sweden

Contact:
Tel. (+46) 070- 6722109
contact (at) guide-natura.com
Bankgiro: 774-5060

We have Tax-certificate
We have travelers guaranty

Follow us on Facebook