Coastal winter safari on Wolf Island
Snowmobile sledge safari and Friluftsliv in coast of Swedish Lapland
Stay in a wilderness cottage looking for moose, reindeers and Northern lights in a winter wonder land of coastal Swedish Lapland. Your guide will meet you at Renöhamn Wharf 7 km from central Piteå. Here you will dress in warm winter overall, winter boots and winter hat and gloves.

From Renöhamn you will go on a snowmobile sledge tour in the Archipelago of Piteå to the Wolf Island. Here you will check-in at your island cottage to experience the Nordic "Back-to Basic"-lifestyle of Friluftsliv (free-air-life) – the natural way to interconnect with the landscape and nature. You will heat the cottage with a wood stove and may chop your own wood. You prepare your meals on an outdoor open fire place or on an indoor gas stove. The cottage, with beds for five persons, has all the kitchen equipment you need, and will be your base for your winter experience. A simple outhouse will be your close to nature toilet.

From the cottage you will in your own pace hike with skies or snowshoes along trails through the boreal taiga forest in search for moos and reindeers. Reindeers are herded for winter grazing on the island by Sami herders. By snowmobile sledge tour you explore the archipelago of Piteå and its winter wonder land, and in the evening, you go for a northern light hunt. The coast of Swedish Lapland is an excellent place for northern light experiences with no light pollution and often more clear weather then over the main land.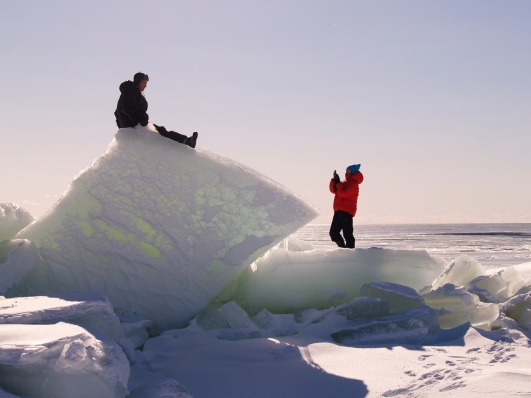 Information about the experience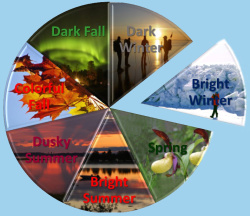 Season: Mars
Departure dates: See Booking calendar
Duration: 2 days 1 night
Lodging: Wolf island cottages
Departure time: 9 am
Return: about 4 pm
Departure place: Renöhamn, Piteå
Visiting Place: Piteå archipelago
Number of guests: min. 2, max.6 persons
Included:
- Snowmobile sledge safari
- Nature guide - biologist
- Introduction to winter Friluftsliv
- Overnight stay in island cottage
- Snowshoes and poles, skis
- Winter clothing, winter boots,
- Warm hats and gloves
- Warm drinks and snacks
- Outdoor lunches, Open fireplace lunch
For more information,
please, contact us.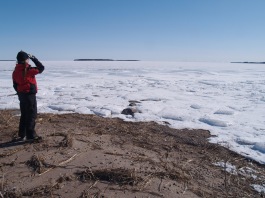 OUR LOCATION: Renöhamn, Piteå, Swedish Lapland