Snowshoe Rental
Hyra Snöskor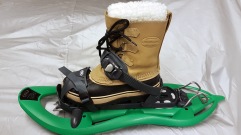 If you want to try snowhoeing around Piteå, or on the Solander Trail, you can easy rent one or two pairs of snowshoes at our self-takeout at Västra Kajen, central Piteå.
You need stable hiking-, winter- or skiing boots for best performance. We rekommend use shoes that are high or to use gaiters.
OBS! Shoes are NOT included in the rental.
The basic package include TSL 325 Escape utltralight snowshoes.
We have two pair skates for rental at Västa Kajen (see below), and additional 20 at Renöhamn. We have alse childrens size snowshoes on request.
Prices: 200 SEK /day
Om du vill tresta snöskor runt Piteå eller på Solanderleden, kan du lätt hyra ett eller två par vid vår självuttag vid Västra Kajen, centrala Piteå.
Du behöver stabila vandrings, vinterskor eller pjäxor, gärna md häg kant, alternativt använda damasker.
OBS: Skor ingår inte i hyran.
Baspaketet innehåller ett par TSL 325 Escape ultralight snöskor.
Vi har två par för uthyrning vid Västa Kajen (se nedan), och ytterligare ett 20-tal vid REnöhamn. Vi har även barnsnöskor.
Pris: 200 Kr/dag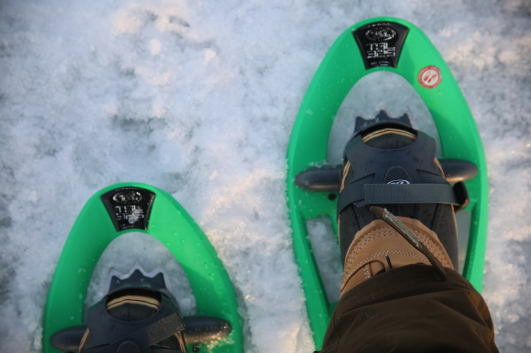 Rental snowshoe pickup at Västa Kajen
Upphämtning av snöskor vid Västra Kajen
After booking and payment (below) you pick up your snowshoes at Västra Kajen; Central Piteå. Confirmation of your rental gives you the combination number to the combination lock nr 1 in the yellow storage, at storage house no 8b. Here you fill a rental contract with instructions.
Google Maps location >>

Efter att du har bokat och betalt (nedan) kan du hämta upp snöskorna vid Västra Kajen, Centrala Piteå. Du får en bekräftelse med kod till kodlås nr 1 i gula förådet, vid hamnmagasin 8b. Här fyller du i ett uthyrningskontrakt med instruktioner.
Google Maps location >>
For more information, please, contact us.
We recommend you to use ski poles as extra stability, especially in deep snow.
Do not walk on snow free ground, pavement or other hard ground.
Avoid to step on stones, that can make you slip.
Do not walk on vegetation, such as bushes or small trees on plantations.
Do not enter unknown forest areas without map and compass, or GPS.
Always bring a backpack with water and warm drink, and extra clothing for rests.
Dress for the climate, that protect you from winf, cold and wetness.
Always follow the Swedish Allemansrätten - Right-of-public-access, and its restrictions.
Do not approach or follow wildlife or reindeer, they have problems to move in deep snow. Make a bigdetour around any wildlife or reindeer group.
Vi rekommenderar att du använder skidstavar för bättre balans, speciellt vid djup snö.
Gå inte på snöfri mark, asfalt eller annat hårt underlag.
Undvik att kliva på stenar, som gör att du kan glida och falla.
Gå inte på vegetation som buskar och små nyplanterade träd.
Ge dig inte ut i okända marker och skogar utan karta och kompass, eler GPS.
Vid längre turer, ta alltid med en ryggsäck med vatten, varm dryck och varna rastkläder.
Klä dig för klimatet, med köder som skyddar mot vind, kyla och väta.
Följ alltid Allemansrätten och dess restriktioner.
Visa hänsyn till djur vintertid – det är ansträngande för dem att röra sig i djup snö. Gå ej nära och förfölj inte djuren, speciellt renar skall du inte närma dig, utan ta en vid sväng runt dem utan att störa dem.
OUR LOCATION: Renöhamn, Piteå, Swedish Lapland
Visiting address:
Renöhamn, Renön, Piteå
Postal Address:
Lövgrundsvägen 93,
94141 Piteå, Sweden

Contact:
Tel. (+46) 070- 6722109
contact (at) guide-natura.com
Bankgiro: 774-5060

We have Tax-certificate
We have travelers guaranty

Follow us on Facebook